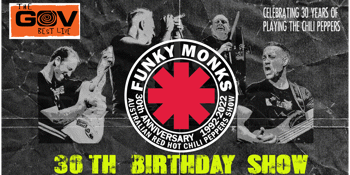 FUNKY MONKS 30TH BIRTHDAY SHOW
with Special Guests
The Gov - Main Room (Hindmarsh, SA)
Saturday, 15 October 2022 7:30 pm
Australia's first and original Red Hot Chili Peppers tribute band Funky Monks are turning 30!

Formed in 1992 to pay tribute to the outrageous LA funk rock outfit, the first show was an after party concert held on October 15 for the RHCP's Blood Sugar Sex Magik tour concert. The band had some surprise guests where Chad Smith (RHCP drummer) and Arik Marshall (RHCP then guitarist) got up to jam on stage with the Funky Monks; giving their approval.

The Funky Monks have maintained their original line up all this time and continue to entertain and amaze punters with their high energy and massive sound recreating the Chili Peppers vast catalogue from the early days to the recent radio tracks. The live show is full of surprises with random funky jams, hard hitting thunderous Chad Smith style drumming, Funky Flea slap bass, and uncanny Anthony vocals, to a guitarist who can smash out those well recognized Chili Peppers riffs
.
To celebrate their 30th anniversary, the Funky Monks will be playing a huge set and joined on stage by a selection of Adelaide's top musos to make the show even more massive!

COME CELEBRATE 30 YEARS OF PAYING TRIBUTE TO THE RED HOT CHILI PEPPERS FOR ONE NIGHT ONLY AT ADELAIDE'S BEST LIVE MUSIC VENUE 'THE GOV'!