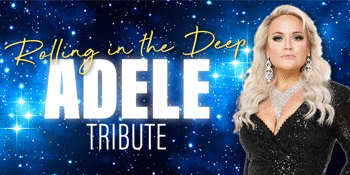 Code One presents
Rolling in the Deep - Adele Tribute
Adelaide Fringe Festival
The Gov - The Venue (Hindmarsh, SA)
Sunday, 25 February 2024 6:30 PM
Step into the world of musical brilliance as Gemma Luxton proudly pays homage to the modern Queen of Soul, Adele.

Prepare for a mesmerizing evening filled with the chart-topping hits that have captivated hearts worldwide across all four of Adele's number one albums. Allow Gemma's soul-stirring melodies and velvety vocals to transport you through a musical journey encompassing all your beloved Adele classics, from the soulful "Chasing Pavements" to the poignant "Easy On Me" and everything in between.

Over the past year, Gemma's star has soared to incredible heights, gracing international television screens and commanding the grand stages of stadiums. Her enchanting rendition of the national anthem at the Australia vs. West Indies Cricket Test marked a historic moment. Gemma's guest appearance on Studio 10, Channel 10, wowed audiences, and her support for Thirsty Merc garnered sold-out accolades in the "Rolling In The Deep: Adele Tribute Show." She also left her mark as the post-game entertainment for State of Origin and as the pre-game sensation for international rugby league stadium games.

With an extraordinary vocal range and a proven track record of winning over audiences, Rolling in the Deep: Adele Tribute with Gemma Luxton promises an unforgettable evening of exceptional music and electrifying energy.