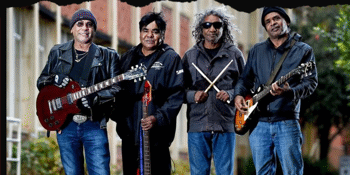 Sponsored By Kura Yerlo Inc
CANCELLED - No Fixed Address
with Nick Moffatt
The Gov - Main Room (Hindmarsh, SA)
Wednesday, 6 July 2022 7:30 PM
No Fixed Address will be returning to Adelaide to complete their last tour that saw rhythm guitarist, singer/songwriter Ricky Harrison hospitalised with heart problems. The band who are looking at performing back in their home town once more says that the whole year has been a hard one for them as their sound Mick Thompson was recently hospitalised in Cairns.

"I guess things haven't been going our way for past few years COVID and band members being incapacitated and sound guy being medically put on notice. We all keep going as best we can as we know that once we stop we never have the chance regroup again because of age and associated medical problems.

We started off as teenagers in Adelaide in the late 1970s and achieved so much not only for ourselves but for other Aboriginal musicians as well, opening the doors to a lot of venues who at a time once thought Aboriginal music was no more than a novelty.

Today, there are many Aboriginal acts touring the country and performing on the big stages through Australia and internationally. It is about the music and continuing our journey like the dreaming the past, present and future are one. We continue to honour our ancestors through our performances and continuing to bring people together which is something that rarely happens today.

But it's more than that we continue to bring Aboriginal and non-Aboriginal together at our shows which helps with healing everyone and bringing all people together as we did before the term multiculturalism was coined. For us it's about unity standing together in defiance of race hate and those who would divide people for their own selfish benefits.

Remember the old days the mining companies propaganda that Aboriginal people want to take your backyard away from you. Native title proved them wrong on a massive scale so now they destroy our sacred sites our cultural heritage to sever our ties with our ancestors and creator beings. Take away our country through forced removal and racist changes in legislation to sever our ties to country.

We still have a message to bring to our people and people in general, and that is to stand together in unity, through meeting up and talking, and enjoying each others company, being part of our ceremonies at our live shows.

Our book will be out early next year and includes interviews with music industry people and members of the community who either worked with band or assisted the band over the years to reach the heights that we achieved"