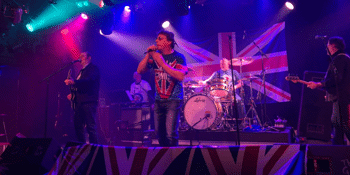 The Whom - Australia's only tribute to The Who
Marty Summer
The Gov - Main Room (Hindmarsh, SA)
Sunday, 18 September 2022 5:00 pm
They're Back!!! If you missed THE WHOM last time, you won't want to miss this one!

The Who formed in London 1964 and have written and recorded some of the greatest rock songs ever! They continue to inspire old and new musicians to this day.

See and hear The Whom perform faithful reproductions of classics such as "substitute" "I can't explain" "pinball wizard" and the epic "won't get fooled again" plus many many more at the world famous "Gov" !

Some of Adelaide's top musicians have come together to form this hugely entertaining tribute….
Paul Curtis – Vocals
Stuart Day-Guitar -Backing Vocals
Warwick Cheatle – Bass
Dale Sanders – Drums
Mick Bryant-Keys, Guitars, Backing vocals.

Supported by Marty Summer from "Love Grins"& "Spirit of Alondray" performing a killer solo set.