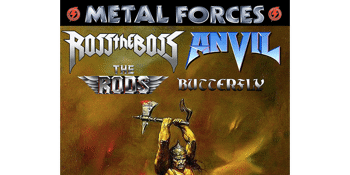 High Voltage Touring
Ross the Boss, Anvil and The Rods
With guests Butterfly
The Gov - The Venue (Hindmarsh, SA)
Wednesday, 6 March 2024 7:30 PM
Ross "The Boss" Friedman is an American metal and punk legend. Having made a name for himself in punk with The Dictators, he left New York for Paris to join Shakin' Street. When Shakin' Street toured as the opening act on Black Sabbath's "Heaven and Hell" tour, Ronnie James Dio introduced Ross to Joey DeMaio. The two then went on to form Manowar. Ross established Manowar as a major heavy metal act from 1980 until 1988 when he left the band. He then spent time playing in several bands, including a reunion of The Dictators, until he revisited his Manowar past. In 2005, he reunited with Manowar for a one-off performance. The year after, he performed a set of Manowar songs at the Keep It True Festival in Germany. That eventually evolved into the band Ross the Boss.

Anvil is a Canadian heavy metal band formed in Toronto, Ontario, in 1978. The band currently consists of founding members Steve "Lips" Kudlow (vocals, guitar), Robb Reiner (drums, percussion), and Chris Robertson (bass). As of 2022, the band has released nineteen studio albums, and have been cited as having influenced many notable heavy metal groups, including Megadeth, Slayer, Anthrax, and Metallica.

One of the leading American Metal bands to make a distinct impression in Europe in the early 80s, The Rods was a hard hitting trio led by guitarist David 'Rock' Feinstein, a cousin of Ronnie James Dio. Feinstein had played with his famous relative and recorded with him in Ronnie Dio and the Prophets as well as the pre Rainbow outfits The Electric Elves and Elf in the early 70s.

With guests Butterfly.