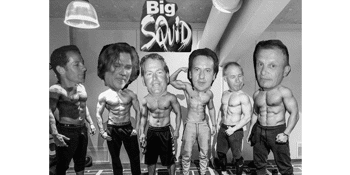 Big Squid
The Gov - The Venue (Hindmarsh, SA)
Sunday, 21 January 2024 5:00 pm
Big Squid started when 'woke' meant being woken up by your flatmate throwing up after a big night out at Lennies or The WaymouthTavern (never the Gov!). On Sunday 21 January 2024, this merry band of musical misfits and comical clowns are coming together for another once a year celebration at the Governor Hindmarsh Hotel.

With their unique blend of caberesque, craziness and unusual song choices, Big Squid are always entertaining and well worth the opportunity to view a classic live performance - not to mention seeing if the same friends you saw last year still have their own teeth!

Covering such great artists as The Sweet, Helen Reddy, Rick Springfield, Sherbert and The Proclaimers, as well as everything in between, there's no song too weak.

If you were around in the late 80s and early 90s and didn't see Big Squid at Lennies, The Grand Prix, The Adelaide Casino, The Waymouth Tavern or The Findon, then you probably didn't ever leave home! Big Squid have been entertaining people throughout the years and reunite (again) in an effort to relive those hey-days and reminisce back to when they were all young and beautiful. These days, they're just a bunch of grey-haired old fellas that looked a bit like 'someone that I used to know' on the Adelaide music scene, but they are funny, irreverent and irresistible to 'lonely women and men who wish to meet same'.

So put on your dancing clobber, becuase they're back at The Gov for one late afternoon Sunday afternoon show on January 21 in 2024. This is your opportunity to come along, see if Guitarist Dave is wearing the same pants as last year, catch up with old friends and maybe meet some new ones, listen to the same jokes and songs, but most of all come ready to be entertained.

At $30 a ticket for over 3 hours of entertainment, do yourself a favour!