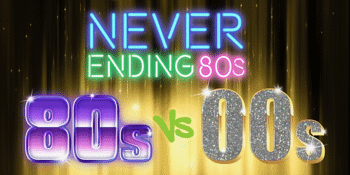 Code One presents
Never ending 80s presents 80s vs 00s - Battle of the Millenium
The Gov - The Venue (Hindmarsh, SA)
Friday, 14 June 2024 7:30 PM
NE80s Presents 80s v 00s The Battle Of The Millenium! Eighties v Noughties
Does the best music of all time only come from the 80s? Or did a new millennium bring pop hits worthy of challenging the greatest decade ever?!? We're going to find out and you need to be there. Come party like it's 1989 or... 2009, as the hottest band in the land plays the biggest hits of the
decades LIVE! Madonna or Pink, Bon Jovi or Robbie Williams, INXS or The Killers, Cyndi Lauper or Britney Spears, Prince or Justin Timberlake, Whitney Houston or Beyoncé, Queen or Lady Gaga.