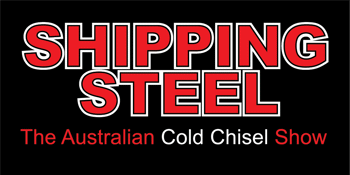 SHIPPING STEEL - Australia's finest tribute to COLD CHISEL
With Special Guests New Sensation - an ultimate salute to INXS
The Gov - The Venue (Hindmarsh, SA)
Thursday, 25 January 2024 7:30 pm
SHIPPING STEEL - Australia's finest tribute to COLD CHISEL.

Shipping Steel pay homage to the iconic songs written and performed by the legendary COLD CHISEL. Cold Chisel formed in 1973 becoming one of Australia's best-loved live bands then and now. Through fusing a combination of rockabilly, hard rock and blues they are considered quintessentially Australian. Shipping Steel consists of six talented musicians who passionately perform Cold Chisel songs remaining true to the versions on albums such as East, Breakfast at sweethearts, Swingshift, Circus Animals, Twentieth Century and more.

NEW SENSATION - A the ultimate salute to INXS

New Sensation salute the famous Australian rock band, INXS. This talented team of musicians bring a high level of professionalism to an audience while displaying their true respect for the songs of INXS. New Sensation capture the essence of INXS in both their sound and live performance. This all converges with a powerful high-energy show that is guaranteed to have the entire audience singing and dancing. New Sensation will take you on a journey with all the hits such as Don't Change, Original Sin, Mystify and everything in between.

Over 30 years live at The Gov, 50 years of Cold Chisel & the sounds of INXS what could be more fitting on a long weekend.