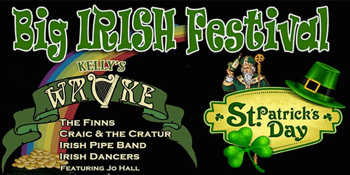 Kelly's Wayke - Big Irish Festival
The Gov - The Venue (Hindmarsh, SA)
Sunday, 17 March 2024 1:00 pm
Kelly's Wayke join in the BIG IRISH FESTIVAL for a St Patrick's Day bash at THE GOV Sunday March 17, from 1pm!

To top it off we have Irish Pipers, Irish Dancers and special guests The Finn and Craic & the Cratur, to boot.
Kelly's WAYKE is an 8-piece Irish Pub band from Adelaide, South Australia that play a mix of traditional Irish rebel and folk songs as well as more modern music such as The Pogues, The Beatles and Dylan. High energy and a unique experience.