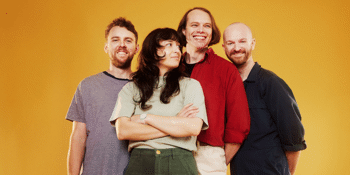 MAM, Ivy League & Select Music present…
The Beths
with Oscar The Wild
The Gov - Main Room (Hindmarsh, SA)
Tuesday, 20 September 2022 8:00 pm
Ivy League Records is elated to announce the upcoming release of Expert In A Dying Field, the new album from revered New Zealand quartet, The Beths. The band's third LP houses 12 jewels of tight, guitar-heavy songs that worm their way into your head, an incandescent collision of power-pop and skuzz. Ahead of the album's September 16 release, The Beths share their new single 'Silence Is Golden'. Filled with Elizabeth Stokes' signature cut-to-the-bone lyrics alongside playfully chaotic, hook-filled melodies, 'Silence Is Golden' appropriately foreshadows an album that stands to solidify The Beths' reputation as masters of their craft.
Following a sold-out Australian run in March, The Beths also announced a headline Australian tour that will see them play shows in Melbourne, Sydney, Brisbane, Adelaide and Perth over album release week, before heading home to tour New Zealand for their biggest ever headline tour.
On The Beths' new album
Expert In A Dying Field
, Stokes' songwriting positions her somewhere between being a novelist and a documentarian. The songs collected here are autobiographical, but they're also character sketches of relationships and more importantly, their aftermaths. The question that hangs in the air: what do you do with how intimately versed you've become in a person once they're gone from your life? The album's title track 'Expert In A Dying Field' introduces the thesis for the record:
"How does it feel to be an expert in a dying field? How do you know it's over when you can't let go?"
Stokes asks.
"Love is learned over time 'til you're an expert in a dying field."