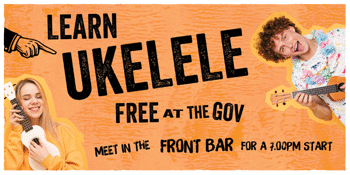 Adelaide Ukulele Appreciation Society Presents
Uke Night
FREE on the GIBSON stage
The Gov - Front Bar (Hindmarsh, SA)
Wednesday, 6 July 2022 7:00 pm
Ukuleles are easy to learn and fun to play.

The Gov has been Headquarters of the Adelaide Ukulele Appreciation Society for over a decade; the first uke club to exist in South Australia.

The society hosts events at The Gov each Wednesday; activities range from an introductory lesson and easy-to-play session to a Ukulele Open Mic where you can showcase your talents.
Every other Wednesday we have workshops sessions, where songs are swapped, strummers scheme, and ideas are tossed around.

All you need to do to be part of the Adelaide Ukulele Appreciation Society is to BYO Uke to The Gov any Wednesday night and say hello! You'll soon be strumming amongst friends.
WEDNESDAY JULY 06 | 7PM - GIBSON
THIS EVENT IS FREE TO ATTEND BUT WE RECOMMEND TABLE BOOKINGS.
RESERVE YOUR SPOT VIA NOW BOOK IT HERE