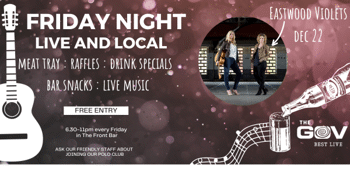 Friday Night Live & Local with Eastwood Violets
The Gov - The Gibson Stage (Hindmarsh, SA)
Friday, 22 December 2023 6:00 pm
Make The Gov your home base on Friday nights. Join our social club to make new friends and be in the running for great prizes, then kick on with free live music every week.

The Gov's Polo Club brings the fun to your Fridays and members are in the running to win 'Monarch of the Bar' and enjoy 5 free drinks per day for a week, as well as a weekly beer carton draw.

Non-members can enjoy beer and sparkling wine specials, a meat tray raffle, bar snacks and live entertainment. Everyone is welcome.

And in 2023 we're bringing South Australian artists into the spotlight every Friday night as we hand over our Gibson Stage to some of the most exciting emerging artists from across the state. Expect the unexpected, with a mix of genres and sounds, friends and fun to make sure you start your weekend with the right tone.

This weeks talented feature artist is Eastwood Violets, Adelaide-based acoustic duo features Jess Cosgrove on guitar and Briony Petch on vocals. Covering pop, rock and alternative classics from then and now, eastwood violets present an eclectic mix of the songs you love.

Polo Club Membership is just $15 for a lifetime membership, which includes a free beer every Thursday using our secret gesture, a stein of beer on your birthday, exclusive parties, and much more.